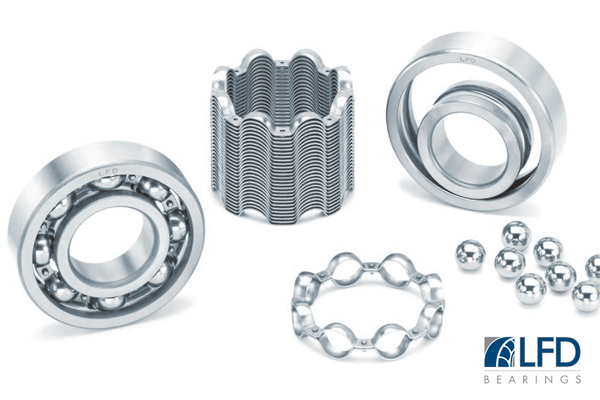 Deep Groove Ball Bearings
LFD ball bearings in the standard range are available both as unsealed bearings as well as fitted with cover and seal rings. They are manufactured with a metal sheet cage and optionally polyamide or solid brass cages with glass fiber reinforcement are available.
In addition to the standard range of ball bearings, we also offer special bearings according to customer specifications.
LFD has developed the EMQ variant for high-speed applications which need special requirements
.
Designation

Main dimensions [mm]

Load rating [N] 

Limiting speed [min-1]

Dimensions [mm]

Weight [kg]

d

D

B

dyn. Cr

stat. C0r

grease

oil

da min

Da max

MR72

2 

7 

2,5 

260 

75 

62000 

74000 

 

 

0,00042 

MR72-2RS

2 

7 

3,0 

260 

75 

 

 

 

 

0,00042 

MR72-ZZ

2 

7 

3,0 

260 

75 

62000 

 

 

 

0,00042 

683

3 

7 

2,0 

208 

60 

61000 

71000 

4,2 

5,8 

0,00032 

MR93

3 

9 

2,5 

390 

110 

53000 

62000 

 

 

0,00075 

MR83-2RS

3 

8 

3,0 

377 

110 

 

 

 

 

0,00048 

MR93-2RS

3 

9 

4,0 

390 

110 

 

 

 

 

0,00075 

MR93-ZZ

3 

9 

4,0 

390 

110 

53000 

 

 

 

0,00075 

623

3 

10 

4,0 

650 

220 

53000 

61000 

4,4 

8,6 

0,00145 

MR83

3 

8 

2,5 

377 

110 

53000 

66000 

 

 

0,00048 

623-2RS

3 

10 

4,0 

650 

220 

40000 

 

4,4 

8,6 

0,00145 

MR83-ZZ

3 

8 

3,0 

377 

110 

53000 

 

 

 

0,00048 

623-ZZ

3 

10 

4,0 

650 

220 

53000 

 

4,4 

8,6 

0,00145 

683-2RS

3 

7 

3,0 

208 

60 

 

 

4,2 

5,8 

0,00032 

683-ZZ

3 

7 

3,0 

208 

60 

61000 

 

4,2 

5,8 

0,00032 

634

4 

16 

5,0 

1365 

500 

39000 

46200 

6,4 

13,6 

0,00540 

MR84-ZZ

4 

8 

3,0 

260 

80 

55000 

 

 

 

0,00039 

MR104-2RS

4 

10 

4,0 

390 

120 

 

 

 

 

0,00090 

624-ZZ

4 

13 

5,0 

1326 

490 

44000 

 

5,8 

11,2 

0,00310 

MR104

4 

10 

3,0 

390 

120 

48000 

58000 

 

 

0,00090 

MR104-ZZ

4 

10 

4,0 

390 

120 

48000 

 

 

 

0,00090 

624-2RS

4 

13 

4,0 

1326 

490 

39000 

 

5,8 

11,2 

0,00310 

694-ZZ

4 

11 

4,0 

728 

260 

47000 

 

5,2 

9,8 

0,00170 

624

4 

13 

5,0 

1326 

490 

44000 

51000 

5,8 

11,2 

0,00310 

684

4 

9 

2,5 

481 

170 

51000 

60000 

5,2 

7,8 

0,00065 

684-2RS

4 

9 

4,0 

481 

170 

 

 

5,2 

7,8 

0,00065 

684-ZZ

4 

9 

4,0 

481 

170 

51000 

 

5,2 

7,8 

0,00065 

MR84-2RS

4 

8 

3,0 

260 

80 

 

 

 

 

0,00039 

MR84

4 

8 

2,0 

260 

80 

55000 

64000 

 

 

0,00039 

MR74-ZZ

4 

7 

2,5 

169 

55 

57000 

 

 

 

0,00023 

MR74-2RS

4 

7 

2,5 

169 

55 

 

 

 

 

0,00023 

MR74

4 

7 

2,0 

169 

55 

57000 

66000 

 

 

0,00023 

694-2RS

4 

11 

4,0 

728 

260 

 

 

5,2 

9,8 

0,00170 

694

4 

11 

4,0 

728 

260 

47000 

55000 

5,2 

9,8 

0,00170 

634-ZZ

4 

16 

5,0 

1365 

500 

39000 

 

6,4 

13,6 

0,00540 

634-2RS

4 

16 

5,0 

1365 

500 

27000 

 

6,4 

13,6 

0,00540 

MR85

5 

8 

2,0 

182 

65 

51000 

60000 

 

 

0,00025 

635-ZZ

5 

19 

6,0 

2379 

900 

36000 

 

7,4 

16,6 

0,00900 

635-2RS

5 

19 

6,0 

2379 

900 

21000 

 

7,4 

16,6 

0,00900 

MR85-2RS

5 

8 

2,5 

182 

65 

 

 

 

 

0,00025 

MR85-ZZ

5 

8 

2,5 

182 

65 

51000 

 

 

 

0,00025 

625-2RS

5 

16 

5,0 

1768 

670 

27000 

 

7,4 

13,6 

0,00500 

625-ZZ

5 

16 

5,0 

1768 

670 

39000 

 

7,4 

13,6 

0,00500 

635

5 

19 

6,0 

2379 

900 

36000 

42000 

7,4 

16,6 

0,00900 

MR95

5 

9 

2,5 

286 

90 

48000 

58000 

 

 

0,00054 

MR95-2RS

5 

9 

3,0 

286 

90 

 

 

 

 

0,00054 

605

5 

14 

5,0 

1352 

500 

41000 

48000 

6,6 

12,4 

0,00300 

685

5 

11 

3,0 

728 

260 

45000 

54000 

6,2 

9,8 

0,00116 

695-ZZ

5 

13 

4,0 

1105 

410 

42000 

 

6,6 

11,4 

0,00240 

695-2RS

5 

13 

4,0 

1105 

410 

 

 

6,6 

11,4 

0,00240 

695

5 

13 

4,0 

1105 

410 

42000 

49000 

6,6 

11,4 

0,00240 

MR105-ZZ

5 

10 

4,0 

286 

90 

47000 

 

 

 

0,00090 

685-ZZ

5 

11 

5,0 

728 

260 

45000 

 

6,2 

9,8 

0,00116 

685-2RS

5 

11 

5,0 

728 

260 

 

 

6,2 

9,8 

0,00116 

605-2RS

5 

14 

5,0 

1352 

500 

 

 

6,6 

12,4 

0,00300 

MR105

5 

10 

3,0 

286 

90 

47000 

55000 

 

 

0,00090 

MR105-2RS

5 

10 

4,0 

286 

90 

 

 

 

 

0,00090 

605-ZZ

5 

14 

5,0 

1352 

500 

41000 

 

6,6 

12,4 

0,00300 

625

5 

16 

5,0 

1768 

670 

39000 

46000 

7,4 

13,6 

0,00500 

MR95-ZZ

5 

9 

3,0 

286 

90 

48000 

 

 

 

0,00054 

686

6 

13 

3,5 

1105 

410 

41000 

48000 

7,2 

11,8 

0,00187 

686-ZZ

6 

13 

5,0 

1105 

410 

41000 

 

7,2 

11,8 

0,00187 

686-2RS

6 

13 

5,0 

1105 

410 

 

 

7,2 

11,8 

0,00187 

MR126-2RS

6 

12 

4,0 

481 

160 

 

 

 

 

0,00125 

MR126

6 

12 

3,0 

481 

160 

42000 

49000 

 

 

0,00125 

626-2RS **

6 

19 

6,0 

2288 

860 

21000 

 

8,4 

16,6 

0,00840 

MR126-ZZ

6 

12 

4,0 

481 

160 

42000 

 

 

 

0,00125 

696

6 

15 

5,0 

1365 

500 

39000 

46000 

7,6 

13,4 

0,00390 

MR106

6 

10 

2,5 

338 

120 

45000 

54000 

 

 

0,00055 

626-ZZ **

6 

19 

6,0 

2288 

860 

36000 

 

8,4 

16,6 

0,00840 

MR106-2RS

6 

10 

3,0 

338 

120 

 

 

 

 

0,00055 

696-2RS

6 

15 

5,0 

1365 

500 

 

 

7,6 

13,4 

0,00390 

696-ZZ

6 

15 

5,0 

1365 

500 

39000 

 

7,6 

13,4 

0,00390 

626 **

6 

19 

6,0 

2288 

860 

36000 

42000 

8,4 

16,6 

0,00840 

MR106-ZZ

6 

10 

3,0 

338 

120 

45000 

 

 

 

0,00055 

MR117-2RS

7 

11 

3,0 

312 

100 

 

 

 

 

0,00070 

SS-607-2RS

7 

19 

6,0 

2000 

770 

28000 

 

9,0 

17,0 

0,00700 

MR137-ZZ

7 

13 

4,0 

364 

140 

40000 

 

 

 

0,00150 

MR137-2RS

7 

13 

4,0 

364 

140 

 

 

 

 

0,00150 

MR137

7 

13 

3,0 

364 

140 

40000 

47000 

 

 

0,00150 

MR117

7 

11 

2,5 

312 

100 

42000 

49000 

 

 

0,00070 

MR117-ZZ

7 

11 

3,0 

312 

100 

42000 

 

 

 

0,00070 

607-ZZ **

7 

19 

6,0 

2288 

860 

36000 

 

9,0 

17,0 

0,00750 

607-2RS **

7 

19 

6,0 

2288 

860 

30000 

 

9,0 

17,0 

0,00750 

687-ZZ

7 

14 

5,0 

1196 

470 

39000 

 

8,2 

12,8 

0,00200 

687-2RS

7 

14 

5,0 

1196 

470 

 

 

8,2 

12,8 

0,00200 

607 **

7 

19 

6,0 

2288 

860 

36000 

42000 

9,0 

17,0 

0,00750 

627 **

7 

22 

7,0 

3380 

1320 

34000 

39000 

9,4 

19,6 

0,01300 

627-2RS **

7 

22 

7,0 

3380 

1320 

29000 

 

9,4 

19,6 

0,01300 

627-ZZ **

7 

22 

7,0 

3380 

1320 

34000 

 

9,4 

19,6 

0,01300 

687

7 

14 

3,5 

1196 

470 

39000 

46000 

8,2 

12,8 

0,00200 

688-ZZ

8 

16 

5,0 

1274 

530 

37000 

 

9,6 

14,4 

0,00300 

688-2RS

8 

16 

5,0 

1274 

530 

 

 

9,6 

14,4 

0,00300 

MR128

8 

12 

2,5 

364 

140 

40000 

47000 

 

 

0,00070 

MR128-2RS

8 

12 

3,5 

364 

140 

 

 

 

 

0,00070 

MR128-ZZ

8 

12 

3,5 

364 

140 

40000 

 

 

 

0,00070 

688

8 

16 

4,0 

1274 

530 

37000 

43000 

9,6 

14,4 

0,00300 

SS-608-2RS

8 

22 

7,0 

3000 

1200 

26000 

 

10,0 

20,0 

0,01200 

MR148-ZZ

8 

14 

4,0 

585 

220 

38000 

 

 

 

0,00190 

MR148-2RS

8 

14 

4,0 

585 

220 

 

 

 

 

0,00190 

MR148

8 

14 

3,5 

585 

220 

38000 

45000 

 

 

0,00190 

698

8 

19 

6,0 

2240 

870 

36000 

43000 

10,0 

17,0 

0,00705 

698-2RS

8 

19 

6,0 

2240 

870 

 

 

10,0 

17,0 

0,00705 

698-ZZ

8 

19 

6,0 

2240 

870 

36000 

 

10,0 

17,0 

0,00705 

628-ZZ **

8 

24 

8,0 

3350 

1410 

33000 

 

10,4 

21,6 

0,01700 

628-2RS **

8 

24 

8,0 

3350 

1410 

20000 

 

10,4 

21,6 

0,01700 

608-ZZ **

8 

22 

7,0 

3380 

1320 

34000 

 

10,0 

20,0 

0,01200 

608-2RS **

8 

22 

7,0 

3380 

1320 

28000 

 

10,0 

20,0 

0,01200 

608 **

8 

22 

7,0 

3380 

1320 

34000 

39000 

10,0 

20,0 

0,01200 

628 **

8 

24 

8,0 

3350 

1410 

33000 

38000 

10,4 

21,6 

0,01700 

689-2RS

9 

17 

5,0 

1350 

580 

 

 

10,6 

15,4 

0,00340 

SS-609-2RS

9 

24 

7,0 

3300 

1400 

25000 

 

11,0 

22,0 

0,01400 

629-2RS **

9 

26 

8,0 

4615 

1816 

27000 

 

11,4 

23,6 

0,02000 

629-ZZ **

9 

26 

8,0 

4615 

1816 

32000 

 

11,4 

23,6 

0,02000 

629 **

9 

26 

8,0 

4615 

1816 

32000 

37000 

11,4 

23,6 

0,02000 

689-ZZ

9 

17 

5,0 

1350 

580 

36000 

 

10,6 

15,4 

0,00340 

689

9 

17 

4,0 

1350 

580 

36000 

43000 

10,6 

15,4 

0,00340 

609-ZZ **

9 

24 

7,0 

3770 

1560 

33000 

 

11,0 

22,0 

0,01400 

609 **

9 

24 

7,0 

3770 

1560 

33000 

38000 

11,0 

22,0 

0,01400 

609-2RS **

9 

24 

7,0 

3770 

1560 

27500 

 

11,0 

22,0 

0,01400 

6900-ZZ

10 

22 

6,0 

2700 

1270 

30000 

 

12,0 

20,0 

0,00900 

6300 **

10 

35 

11,0 

8100 

3450 

20000 

26000 

14,2 

30,8 

0,05700 

6900-2RS

10 

22 

6,0 

2700 

1270 

21000 

 

12,0 

20,0 

0,00900 

6900

10 

22 

6,0 

2700 

1270 

30000 

36000 

12,0 

20,0 

0,00900 

62200-2RS

10 

30 

14,0 

5000 

2150 

16000 

 

14,3 

25,7 

0,04000 

6300-2RS **

10 

35 

11,0 

8100 

3450 

14000 

 

14,2 

30,8 

0,05700 

SS-6000-2RS

10 

26 

8,0 

4100 

1700 

17000 

 

12,0 

24,0 

0,01900 

SS-6200-2RS

10 

30 

9,0 

4600 

2100 

15000 

 

14,2 

25,8 

0,03200 

62300-2RS

10 

35 

17,0 

7900 

3100 

13500 

 

14,3 

30,7 

0,06000 

6200 **

10 

30 

9,0 

5100 

2400 

26000 

32000 

14,2 

25,8 

0,03200 

6200-2RS **

10 

30 

9,0 

5100 

2400 

17000 

 

14,2 

25,8 

0,03200 

6200-ZZ **

10 

30 

9,0 

5100 

2400 

26000 

 

14,2 

25,8 

0,03200 

SS-6300-2RS

10 

35 

11,0 

7400 

3100 

13000 

 

14,2 

30,8 

0,05300 

6300-ZZ **

10 

35 

11,0 

8100 

3450 

20000 

 

14,2 

30,8 

0,05700 

6000 **

10 

26 

8,0 

4550 

1950 

28000 

34000 

12,0 

24,0 

0,02000 

6800-2RS

10 

19 

5,0 

1830 

925 

24000 

 

12,0 

17,0 

0,00500 

63000-2RS

10 

26 

12,0 

4200 

1900 

17500 

 

12,0 

24,0 

0,03000 

6000-2RS **

10 

26 

8,0 

4550 

1950 

17000 

 

12,0 

24,0 

0,02000 

6000-ZZ **

10 

26 

8,0 

4550 

1950 

28000 

 

12,0 

24,0 

0,02000 

SS-6800-2RS

10 

19 

5,0 

1460 

740 

22000 

 

12,0 

17,0 

0,00500 

SS-6900-2RS

10 

22 

6,0 

2160 

1000 

19000 

 

12,0 

20,0 

0,00900 

6800

10 

19 

5,0 

1830 

925 

32000 

38000 

12,0 

17,0 

0,00500 

6800-ZZ

10 

19 

5,0 

1830 

925 

32000 

 

12,0 

17,0 

0,00500 

6001 **

12 

28 

8,0 

5100 

2400 

26000 

32000 

14,0 

26,0 

0,02200 

6901-ZZ

12 

24 

6,0 

2890 

1460 

27000 

 

14,0 

22,0 

0,01100 

6201 **

12 

32 

10,0 

6800 

3050 

22000 

28000 

16,2 

27,8 

0,03700 

6201-2RS **

12 

32 

10,0 

6800 

3050 

15000 

 

16,2 

27,8 

0,03700 

6201-ZZ **

12 

32 

10,0 

6800 

3050 

22000 

 

16,2 

27,8 

0,03700 

SS-6801-2RS

12 

21 

5,0 

1530 

830 

18500 

 

14,0 

19,0 

0,00600 

SS-6201-2RS

12 

32 

10,0 

5500 

2500 

13000 

 

16,2 

27,8 

0,03700 

6901-2RS

12 

24 

6,0 

2890 

1460 

19000 

 

14,0 

22,0 

0,01100 

6901

12 

24 

6,0 

2890 

1460 

27000 

32000 

14,0 

22,0 

0,01100 

6001-ZZ **

12 

28 

8,0 

5100 

2400 

26000 

 

14,0 

26,0 

0,02200 

6001-2RS **

12 

28 

8,0 

5100 

2400 

17000 

 

14,0 

26,0 

0,02200 

62301-2RS

12 

37 

17,0 

9200 

3900 

13000 

 

17,7 

31,3 

0,07000 

62201-2RS

12 

32 

14,0 

6200 

2900 

13500 

 

16,2 

27,7 

0,04500 

63001-2RS

12 

28 

12,0 

5000 

2150 

16000 

 

14,1 

25,9 

0,03000 

SS-6901-2RS

12 

24 

6,0 

2310 

1160 

17500 

 

14,0 

22,0 

0,01100 

SS-6301-2RS

12 

37 

12,0 

8700 

3800 

12000 

 

17,6 

31,4 

0,06000 

6801-ZZ

12 

21 

5,0 

1920 

1040 

29000 

 

14,0 

19,0 

0,00600 

6301-2RS **

12 

37 

12,0 

9650 

4150 

12000 

 

17,6 

31,4 

0,06500 

6301 **

12 

37 

12,0 

9650 

4150 

19000 

24000 

17,6 

31,4 

0,06500 

6801-2RS

12 

21 

5,0 

1920 

1040 

20000 

 

14,0 

19,0 

0,00600 

6801

12 

21 

5,0 

1920 

1040 

29000 

35000 

14,0 

19,0 

0,00600 

6301-ZZ **

12 

37 

12,0 

9650 

4150 

19000 

 

17,6 

31,4 

0,06500 

SS-6001-2RS

12 

28 

8,0 

4600 

2100 

15000 

 

14,0 

26,0 

0,02200 

SS-6002-2RS

15 

32 

9,0 

5000 

2500 

12000 

 

17,0 

30,0 

0,03000 

63002-2RS

15 

32 

13,0 

5200 

2400 

13000 

 

17,1 

30,0 

0,04000 

6802-ZZ

15 

24 

5,0 

2080 

1260 

26000 

 

17,0 

22,0 

0,00700 

16002-ZZ

15 

32 

8,0 

5600 

2830 

22000 

 

17,0 

30,0 

0,02500 

6902-ZZ

15 

28 

7,0 

4100 

2060 

24000 

 

17,0 

26,0 

0,01600 

6902-2RS

15 

28 

7,0 

4100 

2060 

16000 

 

17,0 

26,0 

0,01600 

6902

15 

28 

7,0 

4100 

2060 

24000 

28000 

17,0 

26,0 

0,01600 

SS-6902-2RS

15 

28 

7,0 

3280 

1640 

14500 

 

17,0 

26,0 

0,01600 

6302 **

15 

42 

13,0 

11400 

5450 

17000 

20000 

20,6 

36,4 

0,09200 

6302-2RS **

15 

42 

13,0 

11400 

5450 

11000 

 

20,6 

36,4 

0,09200 

6302-ZZ **

15 

42 

13,0 

11400 

5450 

17000 

 

20,6 

36,4 

0,09200 

62202-2RS

15 

35 

14,0 

7100 

3100 

11900 

 

19,2 

30,7 

0,05500 

62302-2RS

15 

42 

17,0 

11300 

5200 

11000 

 

20,7 

36,5 

0,11500 

SS-6202-2RS

15 

35 

11,0 

6900 

3200 

12000 

 

19,2 

30,8 

0,04500 

SS-6302-2RS

15 

42 

13,0 

10200 

4900 

10000 

 

20,6 

36,4 

0,08200 

6002 **

15 

32 

9,0 

5600 

2850 

22000 

28000 

17,0 

30,0 

0,03100 

6802

15 

24 

5,0 

2080 

1260 

26000 

31000 

17,0 

22,0 

0,00700 

6802-2RS

15 

24 

5,0 

2080 

1260 

17000 

 

17,0 

22,0 

0,00700 

SS-6802-2RS

15 

24 

5,0 

1660 

1000 

15000 

 

17,0 

22,0 

0,00700 

6002-ZZ **

15 

32 

9,0 

5600 

2850 

22000 

 

17,0 

30,0 

0,03100 

6002-2RS **

15 

32 

9,0 

5600 

2850 

14000 

 

17,0 

30,0 

0,03100 

6202-ZZ **

15 

35 

11,0 

7650 

3750 

19000 

 

19,2 

30,8 

0,04600 

16002

15 

32 

8,0 

5600 

2830 

22000 

26000 

17,0 

30,0 

0,02500 

16002-2RS

15 

32 

8,0 

5600 

2830 

 

 

17,0 

30,0 

0,02500 

6202-2RS **

15 

35 

11,0 

7650 

3750 

13000 

 

19,2 

30,8 

0,04600 

6202 **

15 

35 

11,0 

7650 

3750 

19000 

24000 

19,2 

30,8 

0,04600 

6003-2RS **

17 

35 

10,0 

6800 

3250 

12000 

 

19,0 

33,0 

0,04200 

6003 **

17 

35 

10,0 

6800 

3250 

20000 

26000 

19,0 

33,0 

0,04200 

SS-6903-2RS

17 

30 

7,0 

3720 

2060 

12000 

 

19,0 

28,0 

0,01800 

6303-ZZ **

17 

47 

14,0 

13500 

6550 

16000 

 

22,6 

41,4 

0,12000 

6303-2RS **

17 

47 

14,0 

13500 

6550 

11000 

 

22,6 

41,4 

0,12000 

62203-2RS

17 

40 

16,0 

9300 

4500 

11000 

 

21,3 

35,7 

0,08800 

6903

17 

30 

7,0 

4650 

2580 

22000 

26000 

19,0 

28,0 

0,01800 

6203-ZZ **

17 

40 

12,0 

9550 

4800 

17000 

 

21,2 

35,8 

0,07000 

6903-ZZ

17 

30 

7,0 

4650 

2580 

22000 

 

19,0 

28,0 

0,01800 

6903-2RS

17 

30 

7,0 

4650 

2580 

14000 

 

19,0 

28,0 

0,01800 

6303 **

17 

47 

14,0 

13500 

6550 

16000 

19000 

22,6 

41,4 

0,12000 

SS-6203-2RS

17 

40 

12,0 

8600 

4100 

10000 

 

21,2 

35,8 

0,06600 

SS-6303-2RS

17 

47 

14,0 

12100 

5900 

9000 

 

22,6 

41,4 

0,11500 

6003-ZZ **

17 

35 

10,0 

6800 

3250 

20000 

 

19,0 

33,0 

0,04200 

6403

17 

62 

17,0 

22500 

11000 

12000 

15000 

26,0 

53,0 

0,28500 

63003-2RS

17 

35 

14,0 

5800 

2900 

11800 

 

19,0 

33,0 

0,05300 

6203 **

17 

40 

12,0 

9550 

4800 

17000 

20000 

21,2 

35,8 

0,07000 

16003

17 

35 

8,0 

6800 

3250 

20000 

26000 

19,0 

33,0 

0,03200 

16003-2RS

17 

35 

8,0 

6800 

3250 

 

 

19,0 

33,0 

0,03200 

16003-ZZ

17 

35 

8,0 

6800 

3250 

20000 

 

19,0 

33,0 

0,03200 

6803

17 

26 

5,0 

2200 

1400 

24000 

28000 

19,0 

24,0 

0,00800 

6803-2RS

17 

26 

5,0 

2200 

1400 

15000 

 

19,0 

24,0 

0,00800 

6203-2RS **

17 

40 

12,0 

9550 

4800 

11000 

 

21,2 

35,8 

0,07000 

62303-2RS

17 

47 

19,0 

13200 

6500 

10500 

 

22,5 

41,5 

0,15500 

6803-ZZ

17 

26 

5,0 

2200 

1400 

24000 

 

19,0 

24,0 

0,00800 

SS-6003-2RS

17 

35 

10,0 

6100 

3000 

11000 

 

19,0 

33,0 

0,03900 

SS-6803-2RS

17 

26 

5,0 

1760 

1120 

13000 

 

19,0 

24,0 

0,00800 

6004 **

20 

42 

12,0 

9500 

5050 

17000 

20000 

23,2 

38,8 

0,07000 

SS-6804-2RS

20 

32 

7,0 

2760 

1800 

11200 

 

22,0 

30,0 

0,01900 

63004-2RS

20 

42 

16,0 

8800 

4600 

10200 

 

23,4 

38,8 

0,08800 

6804-2RS

20 

32 

7,0 

3450 

2250 

13000 

 

22,0 

30,0 

0,01900 

62304-2RS

20 

52 

21,0 

15500 

7500 

9000 

 

27,1 

45,0 

0,20900 

6804

20 

32 

7,0 

3450 

2250 

21000 

25000 

22,0 

30,0 

0,01900 

6004-2RS **

20 

42 

12,0 

9500 

5050 

11000 

 

23,2 

38,8 

0,07000 

6004-ZZ **

20 

42 

12,0 

9500 

5050 

17000 

 

23,2 

38,8 

0,07000 

6804-ZZ

20 

32 

7,0 

3450 

2250 

21000 

 

22,0 

30,0 

0,01900 

6404

20 

72 

19,0 

31000 

15200 

10000 

13000 

27,0 

65,0 

0,12000 

16004

20 

42 

8,0 

7950 

4300 

17000 

20000 

22,0 

40,0 

0,05000 

16004-2RS

20 

42 

8,0 

7950 

4300 

 

 

22,0 

40,0 

0,05000 

16004-ZZ

20 

42 

8,0 

7950 

4300 

17000 

 

22,0 

40,0 

0,05000 

SS-6004-2RS

20 

42 

12,0 

8400 

4500 

9000 

 

23,2 

38,8 

0,06900 

6204-ZZ **

20 

47 

14,0 

12800 

6650 

15000 

 

25,6 

41,4 

0,11800 

6304-2RS **

20 

52 

15,0 

15900 

7900 

8000 

 

27,0 

45,0 

0,15800 

6304 **

20 

52 

15,0 

15900 

7900 

13000 

16000 

27,0 

45,0 

0,15800 

SS-6904-2RS

20 

37 

9,0 

5120 

2960 

10500 

 

22,0 

35,0 

0,03600 

6304-ZZ **

20 

52 

15,0 

15900 

7900 

13000 

 

27,0 

45,0 

0,15800 

SS-6304-2RS

20 

52 

15,0 

14300 

7100 

8000 

 

27,0 

45,0 

0,14400 

6204 **

20 

47 

14,0 

12800 

6650 

15000 

18000 

25,6 

41,4 

0,11800 

6204-2RS **

20 

47 

14,0 

12800 

6650 

10000 

 

25,6 

41,4 

0,11800 

62204-2RS

20 

47 

18,0 

12000 

6500 

9500 

 

25,7 

41,3 

0,13900 

SS-6204-2RS

20 

47 

14,0 

11500 

6000 

8000 

 

25,6 

41,4 

0,10600 

6904-ZZ

20 

37 

9,0 

6400 

3700 

19000 

 

22,0 

35,0 

0,03600 

6904-2RS

20 

37 

9,0 

6400 

3700 

12000 

 

22,0 

35,0 

0,03600 

6904

20 

37 

9,0 

6400 

3700 

19000 

23000 

22,0 

35,0 

0,03600 

6205-ZZ **

25 

52 

15,0 

14000 

7850 

12000 

 

30,6 

46,4 

0,14200 

63005-2RS

25 

47 

16,0 

10500 

6000 

9100 

 

29,3 

43,7 

0,10500 

6205-2RS **

25 

52 

15,0 

14000 

7850 

8000 

 

30,6 

46,4 

0,14200 

6405

25 

80 

21,0 

37000 

18800 

9000 

11000 

36,0 

71,0 

0,57500 

6305-ZZ **

25 

62 

17,0 

20600 

11300 

11000 

 

32,0 

55,0 

0,25000 

6205 **

25 

52 

15,0 

14000 

7850 

12000 

15000 

30,6 

46,4 

0,14200 

6005-2RS **

25 

47 

12,0 

10100 

5850 

9500 

 

28,2 

43,8 

0,08600 

6005-ZZ **

25 

47 

12,0 

10100 

5850 

15000 

 

28,2 

43,8 

0,08600 

62205-2RS

25 

52 

18,0 

13800 

7700 

9000 

 

30,6 

46,4 

0,15600 

6305 **

25 

62 

17,0 

20600 

11300 

11000 

14000 

32,0 

55,0 

0,25000 

16005-ZZ

25 

47 

8,0 

8400 

5100 

15000 

 

27,0 

45,0 

0,05800 

16005-2RS

25 

47 

8,0 

8400 

5100 

 

 

27,0 

45,0 

0,05800 

16005

25 

47 

8,0 

8400 

5100 

15000 

18000 

27,0 

45,0 

0,05800 

62305-2RS

25 

62 

24,0 

22000 

11000 

7300 

 

32,0 

55,0 

0,27200 

6305-2RS **

25 

62 

17,0 

20600 

11300 

7500 

 

32,0 

55,0 

0,25000 

6005 **

25 

47 

12,0 

10100 

5850 

15000 

18000 

28,2 

43,8 

0,08600 

6805-2RS

25 

37 

7,0 

4300 

2600 

10000 

 

27,0 

35,0 

0,02200 

SS-6205-2RS

25 

52 

15,0 

12600 

7000 

7000 

 

30,6 

46,4 

0,12800 

SS-6005-2RS

25 

47 

12,0 

9000 

5200 

7500 

 

28,2 

43,8 

0,08000 

SS-6305-2RS

25 

62 

17,0 

19000 

9800 

6500 

 

32,0 

55,0 

0,23200 

6905-ZZ

25 

42 

9,0 

7050 

4550 

16000 

 

27,0 

40,0 

0,04200 

6905-2RS

25 

42 

9,0 

7050 

4550 

9800 

 

27,0 

40,0 

0,04200 

6805-ZZ

25 

37 

7,0 

4300 

2600 

18000 

 

27,0 

35,0 

0,02200 

6805

25 

37 

7,0 

4300 

2600 

18000 

21000 

27,0 

35,0 

0,02200 

6905

25 

42 

9,0 

7050 

4550 

16000 

19000 

27,0 

40,0 

0,04200 

SS-6805-2RS

25 

37 

7,0 

3440 

2080 

8500 

 

27,0 

35,0 

0,02200 

SS-6905-2RS

25 

42 

9,0 

5640 

3640 

8400 

 

27,0 

40,0 

0,04200 

6306-2RS **

30 

72 

19,0 

29900 

15800 

6000 

 

37,0 

65,0 

0,37100 

62206-2RS

30 

62 

20,0 

19000 

11000 

7300 

 

35,7 

56,2 

0,24500 

SS-6006-2RS

30 

55 

13,0 

11900 

7500 

6000 

 

34,6 

50,4 

0,12000 

6906-2RS

30 

47 

9,0 

7250 

5000 

8400 

 

32,0 

45,0 

0,04800 

SS-6206-2RS

30 

62 

16,0 

17500 

10100 

5800 

 

35,6 

56,4 

0,19900 

6406

30 

90 

23,0 

47300 

24500 

8500 

10000 

39,0 

81,0 

0,78500 

SS-6306-2RS

30 

72 

19,0 

24000 

13500 

5500 

 

37,0 

65,0 

0,36000 

6906-ZZ

30 

47 

9,0 

7250 

5000 

14000 

 

32,0 

45,0 

0,04800 

6906

30 

47 

9,0 

7250 

5000 

14000 

17000 

32,0 

45,0 

0,04800 

6006 **

30 

55 

13,0 

13200 

8250 

12000 

15000 

34,6 

50,4 

0,12900 

6006-2RS **

30 

55 

13,0 

13200 

8250 

7500 

 

34,6 

50,4 

0,12900 

6006-ZZ **

30 

55 

13,0 

13200 

8250 

12000 

 

34,6 

50,4 

0,12900 

16006

30 

55 

9,0 

11200 

7350 

12000 

15000 

32,0 

53,0 

0,08700 

16006-ZZ

30 

55 

9,0 

11200 

7350 

12000 

 

32,0 

53,0 

0,08700 

SS-6906-2RS

30 

47 

9,0 

5800 

4000 

7200 

 

32,0 

45,0 

0,04800 

6306-ZZ **

30 

72 

19,0 

29900 

15800 

9000 

 

37,0 

65,0 

0,37100 

6306 **

30 

72 

19,0 

29900 

15800 

9000 

11000 

37,0 

65,0 

0,37100 

16006-2RS

30 

55 

9,0 

11200 

7350 

 

 

32,0 

53,0 

0,08700 

6806-ZZ

30 

42 

7,0 

4400 

2900 

15000 

 

32,0 

40,0 

0,02600 

62306-2RS

30 

72 

27,0 

28500 

16000 

6100 

 

37,0 

65,0 

0,50000 

6806

30 

42 

7,0 

4400 

2900 

15000 

18000 

32,0 

40,0 

0,02600 

63006-2RS

30 

55 

19,0 

12500 

7800 

7600 

 

34,6 

50,3 

0,16500 

6206 **

30 

62 

16,0 

19500 

11300 

10000 

13000 

35,6 

56,4 

0,21000 

SS-6806-2RS

30 

42 

7,0 

3520 

2320 

7500 

 

32,0 

40,0 

0,02600 

6806-2RS

30 

42 

7,0 

4400 

2900 

8800 

 

32,0 

40,0 

0,02600 

6206-ZZ **

30 

62 

16,0 

19500 

11300 

10000 

 

35,6 

56,4 

0,21000 

6206-2RS **

30 

62 

16,0 

19500 

11300 

7000 

 

35,6 

56,4 

0,21000 

16007

35 

62 

9,0 

12200 

8850 

10000 

13000 

37,0 

60,0 

0,11100 

6007-ZZ **

35 

62 

14,0 

15900 

10300 

10000 

 

39,6 

57,4 

0,16400 

6007-2RS **

35 

62 

14,0 

15900 

10300 

7000 

 

39,6 

57,4 

0,16400 

6207-ZZ **

35 

72 

17,0 

25700 

15400 

9000 

 

42,0 

65,0 

0,31500 

16007-2RS

35 

62 

9,0 

12200 

8850 

 

 

37,0 

60,0 

0,11100 

16007-ZZ

35 

62 

9,0 

12200 

8850 

10000 

 

37,0 

60,0 

0,11100 

SS-6807-2RS

35 

47 

7,0 

3200 

2600 

6500 

 

37,0 

45,0 

0,02900 

6307 **

35 

80 

21,0 

33500 

18300 

8500 

10000 

44,0 

71,0 

0,45000 

6307-2RS **

35 

80 

21,0 

33500 

18300 

5600 

 

44,0 

71,0 

0,45000 

6307-ZZ **

35 

80 

21,0 

33500 

18300 

8500 

 

44,0 

71,0 

0,45000 

62207-2RS

35 

72 

23,0 

25000 

15000 

6000 

 

42,0 

64,8 

0,39300 

63007-2RS

35 

62 

20,0 

14800 

9800 

6700 

 

39,7 

57,4 

0,21000 

6207-2RS **

35 

72 

17,0 

25700 

15400 

6000 

 

42,0 

65,0 

0,31500 

62307-2RS

35 

80 

31,0 

33000 

18500 

5500 

 

44,1 

70,8 

0,68700 

6407

35 

100 

25,0 

55500 

29400 

7000 

8500 

46,0 

89,0 

0,95100 

SS-6207-2RS

35 

72 

17,0 

23000 

13800 

5000 

 

42,0 

65,0 

0,28800 

SS-6907-2RS

35 

55 

10,0 

8960 

5960 

6200 

 

39,0 

51,0 

0,07400 

SS-6007-2RS

35 

62 

14,0 

14400 

9300 

5000 

 

39,6 

57,4 

0,16000 

6207 **

35 

72 

17,0 

25700 

15400 

9000 

11000 

42,0 

65,0 

0,31500 

6807-ZZ

35 

47 

7,0 

4000 

3250 

13000 

 

37,0 

45,0 

0,02900 

6907-ZZ

35 

55 

10,0 

11200 

7450 

12000 

 

39,0 

51,0 

0,07400 

6907-2RS

35 

55 

10,0 

11200 

7450 

7100 

 

39,0 

51,0 

0,07400 

6807

35 

47 

7,0 

4000 

3250 

13000 

16000 

37,0 

45,0 

0,02900 

6807-2RS

35 

47 

7,0 

4000 

3250 

7600 

 

37,0 

45,0 

0,02900 

6007 **

35 

62 

14,0 

15900 

10300 

10000 

13000 

39,6 

57,4 

0,16400 

6907

35 

55 

10,0 

11200 

7450 

12000 

15000 

39,0 

51,0 

0,07400 

SS-6307-2RS

35 

80 

21,0 

30000 

17100 

4800 

 

44,0 

71,0 

0,45700 

16008

40 

68 

9,0 

13300 

9800 

9500 

12000 

42,0 

66,0 

0,13000 

6208-ZZ **

40 

80 

18,0 

32000 

17800 

8500 

 

47,0 

73,0 

0,40200 

SS-6208-2RS

40 

80 

18,0 

26200 

16000 

4500 

 

47,0 

73,0 

0,36600 

6408

40 

110 

27,0 

64000 

35000 

6700 

8000 

53,0 

97,0 

1,22700 

6308-ZZ **

40 

90 

23,0 

40700 

24000 

7500 

 

49,0 

81,0 

0,63500 

SS-6008-2RS

40 

68 

15,0 

15100 

10300 

4800 

 

44,6 

63,4 

0,19000 

6208 **

40 

80 

18,0 

32000 

17800 

8500 

10000 

47,0 

73,0 

0,40200 

6208-2RS **

40 

80 

18,0 

32000 

17800 

5600 

 

47,0 

73,0 

0,40200 

16008-ZZ

40 

68 

9,0 

13300 

9800 

9500 

 

42,0 

66,0 

0,13000 

16008-2RS

40 

68 

9,0 

13300 

9800 

 

 

42,0 

66,0 

0,13000 

SS-6908-2RS

40 

62 

12,0 

11680 

8160 

5200 

 

44,0 

58,0 

0,11000 

SS-6308-2RS

40 

90 

23,0 

36400 

21600 

4200 

 

49,0 

81,0 

0,63000 

62208-2RS

40 

80 

23,0 

28500 

17500 

5500 

 

47,0 

73,0 

0,48000 

62308-2RS

40 

90 

33,0 

42000 

24500 

4800 

 

49,0 

81,0 

0,90800 

6008-2RS **

40 

68 

15,0 

16800 

11600 

6000 

 

44,6 

63,4 

0,21000 

6008 **

40 

68 

15,0 

16800 

11600 

9500 

12000 

44,6 

63,4 

0,21000 

6908

40 

62 

12,0 

14600 

10200 

11000 

13000 

44,0 

58,0 

0,11000 

6908-2RS

40 

62 

12,0 

14600 

10200 

6300 

 

44,0 

58,0 

0,11000 

6908-ZZ

40 

62 

12,0 

14600 

10200 

11000 

 

44,0 

58,0 

0,11000 

6808-2RS

40 

52 

7,0 

4500 

4050 

6700 

 

42,0 

50,0 

0,03300 

6808-ZZ

40 

52 

7,0 

4500 

4050 

12000 

 

42,0 

50,0 

0,03300 

6808

40 

52 

7,0 

4500 

4050 

12000 

14000 

42,0 

50,0 

0,03300 

SS-6808-2RS

40 

52 

7,0 

3600 

3240 

5500 

 

42,0 

50,0 

0,03300 

6308 **

40 

90 

23,0 

40700 

24000 

7500 

9000 

49,0 

81,0 

0,63500 

6008-ZZ **

40 

68 

15,0 

16800 

11600 

9500 

 

44,6 

63,4 

0,21000 

63008-2RS

40 

68 

21,0 

15900 

10900 

5900 

 

44,6 

63,3 

0,26000 

6308-2RS **

40 

90 

23,0 

40700 

24000 

5000 

 

49,0 

81,0 

0,63500 

16009-ZZ

45 

75 

10,0 

15600 

12300 

9000 

 

48,2 

71,8 

0,17000 

6809

45 

58 

7,0 

6400 

5650 

9500 

12000 

47,0 

56,0 

0,04000 

6909-2RS

45 

68 

12,0 

15100 

11200 

5600 

 

49,0 

64,0 

0,12800 

6909-ZZ

45 

68 

12,0 

15100 

11200 

9800 

 

49,0 

64,0 

0,12800 

63009-2RS

45 

75 

23,0 

19800 

13900 

5000 

 

50,9 

69,1 

0,34000 

6209-ZZ **

45 

85 

19,0 

32700 

20200 

8000 

 

52,0 

78,0 

0,41400 

6809-2RS

45 

58 

7,0 

6400 

5650 

5900 

 

47,0 

56,0 

0,04000 

SS-6309-2RS

45 

85 

23,0 

47400 

28500 

4000 

 

52,0 

78,0 

0,83800 

6409

45 

120 

29,0 

76100 

44900 

5600 

6700 

58,0 

99,9 

1,54000 

62209-2RS

45 

85 

23,0 

30000 

20000 

5100 

 

52,1 

77,8 

0,52500 

SS-6209-2RS

45 

85 

19,0 

29430 

18100 

4240 

 

52,0 

78,0 

0,41400 

SS-6009-2RS

45 

75 

16,0 

20800 

14600 

4480 

 

49,6 

70,4 

0,26100 

6909

45 

68 

12,0 

15100 

11200 

9800 

12000 

49,0 

64,0 

0,12800 

16009-2RS

45 

75 

10,0 

15600 

12300 

 

 

48,2 

71,8 

0,17000 

16009

45 

75 

10,0 

15600 

12300 

9000 

11000 

48,2 

71,8 

0,17000 

6309-2RS **

45 

100 

25,0 

52700 

31700 

4300 

 

54,0 

91,0 

0,83800 

62309-2RS

45 

100 

36,0 

52500 

31000 

4200 

 

54,2 

90,8 

0,88000 

6009-ZZ **

45 

75 

16,0 

21000 

15000 

9000 

 

49,6 

70,4 

0,26100 

6009-2RS **

45 

75 

16,0 

21000 

15000 

5600 

 

49,6 

70,4 

0,26100 

6009 **

45 

75 

16,0 

21000 

15000 

9000 

11000 

49,6 

70,4 

0,26100 

6209 **

45 

85 

19,0 

32700 

20200 

8000 

9500 

52,0 

78,0 

0,41400 

6309 **

45 

100 

25,0 

52700 

31700 

6700 

8000 

54,0 

91,0 

0,83800 

6309-ZZ **

45 

100 

25,0 

52700 

31700 

6700 

 

54,0 

91,0 

0,83800 

6809-ZZ

45 

58 

7,0 

6400 

5650 

9500 

 

47,0 

56,0 

0,04000 

6209-2RS **

45 

85 

19,0 

32700 

20200 

5300 

 

52,0 

78,0 

0,41400 

6210-2RS **

50 

90 

20,0 

35100 

23100 

4500 

 

57,0 

83,0 

0,46000 

SS-6310-2RS

50 

110 

27,0 

55800 

34100 

3200 

 

61,0 

99,0 

1,06200 

62210-2RS

50 

90 

23,0 

36000 

23500 

4600 

 

57,1 

82,9 

0,54400 

6210 **

50 

90 

20,0 

35100 

23100 

7000 

8500 

57,0 

83,0 

0,46000 

6210-ZZ **

50 

90 

20,0 

35100 

23100 

7000 

 

57,0 

83,0 

0,46000 

62310-2RS

50 

110 

40,0 

61500 

37400 

3800 

 

61,2 

98,9 

1,60000 

6010 **

50 

80 

16,0 

21800 

16500 

8500 

10000 

54,6 

75,4 

0,26000 

6010-ZZ **

50 

80 

16,0 

21800 

16500 

8500 

 

54,6 

75,4 

0,26000 

SS-6210-2RS

50 

90 

20,0 

31600 

23200 

3600 

 

57,0 

83,0 

0,46000 

6010-2RS **

50 

80 

16,0 

21800 

16500 

5300 

 

54,6 

75,4 

0,26000 

6310-ZZ **

50 

110 

27,0 

62000 

37900 

6000 

 

61,0 

99,0 

1,06200 

6310-2RS **

50 

110 

27,0 

62000 

37900 

4000 

 

61,0 

99,0 

1,06200 

SS-6010-2RS

50 

80 

16,0 

19600 

14800 

4240 

 

54,6 

75,4 

0,26000 

6810-2RS

50 

65 

7,0 

6600 

6100 

5300 

 

52,0 

63,0 

0,05200 

16010-2RS

50 

80 

10,0 

16300 

13100 

 

 

53,2 

76,8 

0,18800 

16010

50 

80 

10,0 

16300 

13100 

8500 

10000 

53,2 

76,8 

0,18800 

16010-ZZ

50 

80 

10,0 

16300 

13100 

8500 

 

53,2 

76,8 

0,18800 

6810

50 

65 

7,0 

6600 

6100 

9600 

11000 

52,0 

63,0 

0,05200 

6910-ZZ

50 

72 

12,0 

15600 

12200 

8900 

 

54,0 

68,0 

0,13200 

6910-2RS

50 

72 

12,0 

15600 

12200 

5100 

 

54,0 

68,0 

0,13200 

6410

50 

130 

31,0 

87100 

52000 

5000 

6000 

64,0 

99,9 

1,89000 

6310 **

50 

110 

27,0 

62000 

37900 

6000 

7000 

61,0 

99,0 

1,06200 

6810-ZZ

50 

65 

7,0 

6600 

6100 

9600 

 

52,0 

63,0 

0,05200 

6910

50 

72 

12,0 

15600 

12200 

8900 

11000 

54,0 

68,0 

0,13200 

6211 **

55 

100 

21,0 

43600 

29300 

6300 

7500 

64,0 

91,0 

0,61100 

6811-ZZ

55 

72 

9,0 

8800 

8100 

8700 

 

57,0 

70,0 

0,08300 

6311 **

55 

120 

29,0 

71500 

44600 

5300 

6300 

66,0 

99,9 

1,38000 

6311-2RS **

55 

120 

29,0 

71500 

44600 

3600 

 

66,0 

99,9 

1,38000 

6211-2RS **

55 

100 

21,0 

43600 

29300 

4000 

 

64,0 

91,0 

0,61100 

6211-ZZ **

55 

100 

21,0 

43600 

29300 

6300 

 

64,0 

91,0 

0,61100 

6811

55 

72 

9,0 

8800 

8100 

8700 

10000 

57,0 

70,0 

0,08300 

6811-2RS

55 

72 

9,0 

8800 

8100 

4800 

 

57,0 

70,0 

0,08300 

6311-ZZ **

55 

120 

29,0 

71500 

44600 

5300 

 

66,0 

99,9 

1,38000 

SS-6211-2RS

55 

100 

21,0 

39200 

26400 

3200 

 

64,0 

91,0 

0,61100 

SS-6011-2RS

55 

90 

18,0 

25300 

19100 

3600 

 

61,0 

84,0 

0,39000 

6411

55 

140 

33,0 

100000 

62000 

4800 

5600 

69,0 

99,9 

2,30000 

6011-ZZ **

55 

90 

18,0 

28100 

21200 

7500 

 

61,0 

84,0 

0,39000 

6011-2RS **

55 

90 

18,0 

28100 

21200 

4500 

 

61,0 

84,0 

0,39000 

6011 **

55 

90 

18,0 

28100 

21200 

7500 

9000 

61,0 

84,0 

0,39000 

6911

55 

80 

13,0 

16000 

13300 

8200 

9600 

60,0 

75,0 

0,18000 

6911-2RS

55 

80 

13,0 

16000 

13300 

4600 

 

60,0 

75,0 

0,18000 

62211-2RS

55 

100 

25,0 

43000 

28500 

4100 

 

63,9 

91,0 

0,71000 

16011

55 

90 

11,0 

19300 

16300 

7500 

9000 

58,2 

86,8 

0,26000 

62311-2RS

55 

120 

43,0 

71000 

44000 

3600 

 

66,0 

99,9 

1,98000 

6911-ZZ

55 

80 

13,0 

16000 

13300 

8200 

 

60,0 

75,0 

0,18000 

6912

60 

85 

13,0 

16400 

14300 

7600 

8900 

65,0 

80,0 

0,19300 

6312 **

60 

130 

31,0 

81500 

51900 

5000 

6000 

72,0 

99,9 

1,72000 

SS-6012-2RS

60 

95 

18,0 

26600 

20900 

3440 

 

66,0 

89,0 

0,42000 

62312-2RS

60 

130 

46,0 

81000 

51500 

3100 

 

72,0 

99,9 

2,52000 

6312-2RS **

60 

130 

31,0 

81500 

51900 

3400 

 

72,0 

99,9 

1,72000 

16012

60 

95 

11,0 

19900 

17600 

7000 

8500 

63,2 

91,8 

0,28000 

6012-ZZ **

60 

95 

18,0 

29400 

23200 

7800 

 

66,0 

89,0 

0,42000 

62212-2RS

60 

110 

28,0 

52000 

35500 

3800 

 

69,1 

99,9 

0,98000 

6012 **

60 

95 

18,0 

29400 

23200 

7800 

8500 

66,0 

89,0 

0,42000 

6912-ZZ

60 

85 

13,0 

16400 

14300 

7600 

 

65,0 

80,0 

0,19300 

6912-2RS

60 

85 

13,0 

16400 

14300 

4300 

 

65,0 

80,0 

0,19300 

6012-2RS **

60 

95 

18,0 

29400 

23200 

4300 

 

66,0 

89,0 

0,42000 

6312-ZZ **

60 

130 

31,0 

81500 

51900 

5000 

 

72,0 

99,9 

1,72000 

6812

60 

78 

10,0 

11500 

10600 

8000 

9400 

62,0 

76,0 

0,10600 

SS-6212-2RS

60 

110 

22,0 

47500 

32500 

3000 

 

69,0 

99,9 

0,78000 

SS-6312-2RS

60 

130 

31,0 

73400 

46700 

2900 

 

72,0 

99,9 

1,72000 

6212-ZZ **

60 

110 

22,0 

52400 

36000 

6000 

 

69,0 

99,9 

0,78000 

6212-2RS **

60 

110 

22,0 

52400 

36000 

4000 

 

69,0 

99,9 

0,78000 

6212 **

60 

110 

22,0 

52400 

36000 

6000 

7000 

69,0 

99,9 

0,78000 

6812-ZZ

60 

78 

10,0 

11500 

10600 

8000 

 

62,0 

76,0 

0,10600 

6812-2RS

60 

78 

10,0 

11500 

10600 

4400 

 

62,0 

76,0 

0,10600 

6412

60 

150 

35,0 

110000 

70800 

1800 

5600 

74,0 

99,9 

2,76000 

6213-2RS **

65 

120 

23,0 

57200 

40000 

3600 

 

74,0 

99,9 

0,99500 

6313-2RS **

65 

140 

33,0 

93000 

59700 

3000 

 

77,0 

99,9 

2,10000 

62213-2RS

65 

120 

31,0 

55000 

40000 

3000 

 

74,0 

99,9 

1,26000 

6813-2RS

65 

85 

10,0 

11600 

11000 

4100 

 

69,0 

81,0 

0,12800 

6813

65 

85 

10,0 

11600 

11000 

7400 

8700 

69,0 

81,0 

0,12800 

6913

65 

90 

13,0 

17400 

16100 

7000 

8200 

70,0 

85,0 

0,20600 

6413

65 

160 

37,0 

118000 

79000 

4000 

4800 

79,0 

99,9 

3,30000 

6313 **

65 

140 

33,0 

93000 

59700 

4800 

5600 

77,0 

99,9 

2,10000 

62313-2RS

65 

140 

48,0 

91700 

59000 

2800 

 

77,0 

99,9 

3,00000 

6913-2RS

65 

90 

13,0 

17400 

16100 

4000 

 

70,0 

85,0 

0,20600 

6913-ZZ

65 

90 

13,0 

17400 

16100 

7000 

 

70,0 

85,0 

0,20600 

6213 **

65 

120 

23,0 

57200 

40000 

5300 

6300 

74,0 

99,9 

0,99500 

6813-ZZ

65 

85 

10,0 

11600 

11000 

7400 

 

69,0 

81,0 

0,12800 

6213-ZZ **

65 

120 

23,0 

57200 

40000 

5300 

 

74,0 

99,9 

0,99500 

6313-ZZ **

65 

140 

33,0 

93000 

59700 

4800 

 

77,0 

99,9 

2,10000 

6013-ZZ **

65 

100 

18,0 

30500 

25200 

6300 

 

71,0 

94,0 

0,44000 

6013-2RS **

65 

100 

18,0 

30500 

25200 

4000 

 

71,0 

94,0 

0,44000 

6013 **

65 

100 

18,0 

30500 

25200 

6300 

7500 

71,0 

94,0 

0,44000 

16013

65 

100 

11,0 

22900 

19600 

6300 

7500 

68,2 

96,8 

0,30000 

62314-2RS

70 

150 

51,0 

102000 

66500 

2600 

 

82,0 

99,9 

3,56000 

6314-ZZ **

70 

150 

35,0 

104000 

68100 

4500 

 

82,0 

99,9 

2,50000 

6314-2RS **

70 

150 

35,0 

104000 

68100 

2800 

 

82,0 

99,9 

2,50000 

6314 **

70 

150 

35,0 

104000 

68100 

4500 

5300 

82,0 

99,9 

2,50000 

SS-6214-2RS

70 

125 

24,0 

56000 

39700 

2850 

 

79,0 

99,9 

1,07000 

6414

70 

180 

42,0 

143000 

104000 

3800 

4500 

86,0 

99,9 

4,85000 

SS-6014-2RS

70 

110 

20,0 

34300 

28000 

3050 

 

76,0 

99,9 

0,60000 

62214-2RS

70 

125 

31,0 

59000 

44000 

3000 

 

79,0 

99,9 

1,35000 

16014

70 

110 

13,0 

28100 

25000 

6000 

7000 

73,2 

99,9 

0,43300 

6214-2RS **

70 

125 

24,0 

62200 

44100 

3400 

 

79,0 

99,9 

1,07000 

6014 **

70 

110 

20,0 

38100 

30900 

6000 

7000 

76,0 

99,9 

0,60000 

6214-ZZ **

70 

125 

24,0 

62200 

44100 

5000 

 

79,0 

99,9 

1,07000 

6914-ZZ

70 

100 

16,0 

23700 

21200 

6500 

 

75,0 

95,0 

0,33400 

SS-6314-2RS

70 

150 

35,0 

94000 

61300 

2400 

 

82,0 

99,9 

2,50000 

6014-2RS **

70 

110 

20,0 

38100 

30900 

3600 

 

76,0 

99,9 

0,60000 

6914-2RS

70 

100 

16,0 

23700 

21200 

3700 

 

75,0 

95,0 

0,33400 

6914

70 

100 

16,0 

23700 

21200 

6500 

7700 

75,0 

95,0 

0,33400 

6814-2RS

70 

90 

10,0 

12100 

11900 

3800 

 

74,0 

86,0 

0,13700 

6214 **

70 

125 

24,0 

62200 

44100 

5000 

6000 

79,0 

99,9 

1,07000 

6014-ZZ **

70 

110 

20,0 

38100 

30900 

6000 

 

76,0 

99,9 

0,60000 

6814

70 

90 

10,0 

12100 

11900 

6900 

8100 

74,0 

86,0 

0,13700 

6814-ZZ

70 

90 

10,0 

12100 

11900 

6900 

 

74,0 

86,0 

0,13700 

6915-2RS

75 

105 

16,0 

24400 

22600 

3500 

 

80,0 

99,9 

0,35300 

6915

75 

105 

16,0 

24400 

22600 

6100 

7200 

80,0 

99,9 

0,35300 

SS-6015-2RS

75 

115 

20,0 

36000 

30200 

2750 

 

81,0 

99,9 

0,64000 

6315-2RS **

75 

160 

37,0 

114000 

77000 

2800 

 

87,0 

99,9 

3,03000 

6415

75 

190 

45,0 

153000 

115000 

3600 

4300 

91,0 

99,9 

6,50000 

6315-ZZ **

75 

160 

37,0 

114000 

77000 

4300 

 

87,0 

99,9 

3,03000 

6815-2RS

75 

95 

10,0 

12500 

12900 

3600 

 

79,0 

91,0 

0,14500 

6015-ZZ **

75 

115 

20,0 

39700 

33500 

5600 

 

81,0 

99,9 

0,64000 

6015-2RS **

75 

115 

20,0 

39700 

33500 

3400 

 

81,0 

99,9 

0,64000 

6815

75 

95 

10,0 

12500 

12900 

6400 

7600 

79,0 

91,0 

0,14500 

6215-ZZ **

75 

130 

25,0 

67400 

49300 

4800 

 

84,0 

99,9 

1,18000 

6815-ZZ

75 

95 

10,0 

12500 

12900 

6400 

 

79,0 

91,0 

0,14500 

16015

75 

115 

13,0 

28600 

26800 

5600 

6700 

78,2 

99,9 

0,46000 

6315 **

75 

160 

37,0 

114000 

77000 

4300 

5000 

87,0 

99,9 

3,03000 

6015 **

75 

115 

20,0 

39700 

33500 

5600 

6700 

81,0 

99,9 

0,64000 

6915-ZZ

75 

105 

16,0 

24400 

22600 

6100 

 

80,0 

99,9 

0,35300 

6215-2RS **

75 

130 

25,0 

67400 

49300 

3200 

 

84,0 

99,9 

1,18000 

6215 **

75 

130 

25,0 

67400 

49300 

4800 

5600 

84,0 

99,9 

1,18000 

6316 **

80 

170 

39,0 

122000 

86500 

3800 

4500 

92,0 

99,9 

3,60000 

6916-ZZ

80 

110 

16,0 

24900 

24000 

5700 

 

85,0 

99,9 

0,37300 

6016-ZZ **

80 

125 

22,0 

47500 

39800 

5300 

 

86,0 

99,9 

0,85000 

16016

80 

125 

14,0 

31900 

29700 

5300 

6300 

83,2 

99,9 

0,60000 

6316-2RS **

80 

170 

39,0 

122000 

86500 

2700 

 

92,0 

99,9 

3,60000 

6316-ZZ **

80 

170 

39,0 

122000 

86500 

3800 

 

92,0 

99,9 

3,60000 

6216 **

80 

140 

26,0 

72700 

53000 

4500 

5300 

91,0 

99,9 

1,40000 

6816-ZZ

80 

100 

10,0 

12700 

13300 

6000 

 

84,0 

96,0 

0,15400 

6816-2RS

80 

100 

10,0 

12700 

13300 

3400 

 

84,0 

96,0 

0,15400 

6816

80 

100 

10,0 

12700 

13300 

6000 

7100 

84,0 

96,0 

0,15400 

6916-2RS

80 

110 

16,0 

24900 

24000 

3200 

 

85,0 

99,9 

0,37300 

6916

80 

110 

16,0 

24900 

24000 

5700 

6700 

85,0 

99,9 

0,37300 

6016 **

80 

125 

22,0 

47500 

39800 

5300 

6300 

86,0 

99,9 

0,85000 

6216-2RS **

80 

140 

26,0 

72700 

53000 

3000 

 

91,0 

99,9 

1,40000 

6416

80 

200 

48,0 

164000 

125000 

3400 

4000 

96,0 

99,9 

7,50000 

SS-6016-2RS

80 

125 

22,0 

43000 

36000 

2600 

 

86,0 

99,9 

0,85000 

6216-ZZ **

80 

140 

26,0 

72700 

53000 

4500 

 

91,0 

99,9 

1,40000 

6016-2RS **

80 

125 

22,0 

47500 

39800 

3100 

 

86,0 

99,9 

0,85000 

6917-2RS

85 

120 

18,0 

32000 

29600 

3000 

 

91,5 

99,9 

0,53600 

6917-ZZ

85 

120 

18,0 

32000 

29600 

5400 

 

91,5 

99,9 

0,53600 

6917

85 

120 

18,0 

32000 

29600 

5400 

6300 

91,5 

99,9 

0,53600 

6417

85 

210 

52,0 

174000 

136000 

3200 

3800 

99,9 

99,9 

9,00000 

6017-ZZ **

85 

130 

22,0 

49400 

43100 

5000 

 

91,0 

99,9 

0,89000 

6017-2RS **

85 

130 

22,0 

49400 

43100 

5000 

 

91,0 

99,9 

0,89000 

6317-2RS

85 

180 

41,0 

133000 

96600 

2600 

 

99,0 

99,9 

4,20000 

6317

85 

180 

41,0 

133000 

96600 

3600 

4300 

99,0 

99,9 

4,20000 

16017

85 

130 

14,0 

33800 

33500 

5000 

6000 

88,2 

99,9 

0,63000 

6217 **

85 

150 

28,0 

83200 

61900 

4300 

5000 

96,0 

99,9 

1,80000 

6217-2RS **

85 

150 

28,0 

83200 

61900 

2800 

 

96,0 

99,9 

1,80000 

6217-ZZ **

85 

150 

28,0 

83200 

61900 

4300 

 

96,0 

99,9 

1,80000 

6817

85 

110 

13,0 

18700 

19000 

5700 

6700 

90,0 

99,9 

0,27000 

6817-ZZ

85 

110 

13,0 

18700 

19000 

5700 

 

90,0 

99,9 

0,27000 

6317-ZZ

85 

180 

41,0 

133000 

96600 

3600 

 

99,0 

99,9 

4,20000 

6817-2RS

85 

110 

13,0 

18700 

19000 

3100 

 

90,0 

99,9 

0,27000 

6017 **

85 

130 

22,0 

49400 

43100 

5000 

6000 

91,0 

99,9 

0,89000 

6218-ZZ

90 

160 

30,0 

95600 

71500 

3800 

 

99,9 

99,9 

2,16000 

6418

90 

225 

54,0 

190000 

160000 

3000 

3600 

99,9 

99,9 

11,50000 

6218

90 

160 

30,0 

95600 

71500 

3800 

4500 

99,9 

99,9 

2,16000 

6818-ZZ

90 

115 

13,0 

19000 

19700 

5400 

 

95,0 

99,9 

0,28500 

6818-2RS

90 

115 

13,0 

19000 

19700 

3000 

 

95,0 

99,9 

0,28500 

6918

90 

125 

18,0 

33000 

31500 

5100 

6000 

96,5 

99,9 

0,55400 

6818

90 

115 

13,0 

19000 

19700 

5400 

6300 

95,0 

99,9 

0,28500 

6018 **

90 

140 

24,0 

58500 

49700 

4800 

5600 

97,0 

99,9 

1,16000 

6218-2RS

90 

160 

30,0 

95600 

71500 

2600 

 

99,9 

99,9 

2,16000 

16018

90 

140 

16,0 

41600 

40400 

4800 

5600 

94,6 

99,9 

0,85000 

6318-2RS

90 

190 

43,0 

143000 

107000 

2400 

 

99,9 

99,9 

4,90000 

6318-ZZ

90 

190 

43,0 

143000 

107000 

3400 

 

99,9 

99,9 

4,90000 

6918-ZZ

90 

125 

18,0 

33000 

31500 

5100 

 

96,5 

99,9 

0,55400 

6918-2RS

90 

125 

18,0 

33000 

31500 

2900 

 

96,5 

99,9 

0,55400 

6018-ZZ **

90 

140 

24,0 

58500 

49700 

4800 

 

97,0 

99,9 

1,16000 

6018-2RS **

90 

140 

24,0 

58500 

49700 

2800 

 

97,0 

99,9 

1,16000 

6318

90 

190 

43,0 

143000 

107000 

3400 

4000 

99,9 

99,9 

4,90000 

6919-ZZ

95 

130 

18,0 

33500 

33500 

4800 

 

99,9 

99,9 

0,57900 

6019

95 

145 

24,0 

60500 

53600 

4300 

5000 

99,9 

99,9 

1,20000 

6919-2RS

95 

130 

18,0 

33500 

33500 

2800 

 

99,9 

99,9 

0,57900 

6919

95 

130 

18,0 

33500 

33500 

4800 

5700 

99,9 

99,9 

0,57900 

16019

95 

145 

16,0 

42300 

41500 

4300 

5000 

99,6 

99,9 

0,89000 

6019-ZZ

95 

145 

24,0 

60500 

53600 

4300 

 

99,9 

99,9 

1,20000 

6319-ZZ

95 

200 

45,0 

153000 

118000 

3200 

 

99,9 

99,9 

5,60000 

6219-ZZ

95 

170 

32,0 

109000 

81900 

3600 

 

99,9 

99,9 

2,60000 

6319-2RS

95 

200 

45,0 

153000 

118000 

2300 

 

99,9 

99,9 

5,60000 

6319

95 

200 

45,0 

153000 

118000 

3200 

3800 

99,9 

99,9 

5,60000 

6819-ZZ

95 

120 

13,0 

19300 

20500 

5000 

 

99,9 

99,9 

0,30000 

6819-2RS

95 

120 

13,0 

19300 

20500 

2800 

 

99,9 

99,9 

0,30000 

6219

95 

170 

32,0 

109000 

81900 

3600 

4300 

99,9 

99,9 

2,60000 

6219-2RS

95 

170 

32,0 

109000 

81900 

2500 

 

99,9 

99,9 

2,60000 

6019-2RS

95 

145 

24,0 

60500 

53600 

2600 

 

99,9 

99,9 

1,20000 

6819

95 

120 

13,0 

19300 

20500 

5000 

5900 

99,9 

99,9 

0,30000 

6320

100 

215 

47,0 

173000 

140000 

3000 

3600 

99,9 

99,9 

7,00000 

6220

100 

180 

34,0 

124000 

93000 

3400 

4000 

99,9 

99,9 

3,50000 

6020

100 

150 

24,0 

60500 

54000 

4300 

5000 

99,9 

99,9 

1,25000 

6920

100 

140 

20,0 

41000 

39500 

4500 

5300 

99,9 

99,9 

0,78500 

6220-ZZ

100 

180 

34,0 

124000 

93000 

3400 

 

99,9 

99,9 

3,50000 

6920-ZZ

100 

140 

20,0 

41000 

39500 

4500 

 

99,9 

99,9 

0,78500 

16020

100 

150 

16,0 

45000 

44000 

4300 

5000 

99,9 

99,9 

0,91000 

6920-2RS

100 

140 

20,0 

41000 

39500 

 

 

99,9 

99,9 

0,78500 

6320-ZZ

100 

215 

47,0 

173000 

140000 

3000 

 

99,9 

99,9 

7,00000 

6220-2RS

100 

180 

34,0 

124000 

93000 

2300 

 

99,9 

99,9 

3,50000 

6320-2RS

100 

215 

47,0 

173000 

140000 

2200 

 

99,9 

99,9 

7,00000 

6820

100 

125 

13,0 

19600 

21200 

4800 

5600 

99,9 

99,9 

0,31300 

6820-2RS

100 

125 

13,0 

19600 

21200 

2700 

 

99,9 

99,9 

0,31300 

6820-ZZ

100 

125 

13,0 

19600 

21200 

4800 

 

99,9 

99,9 

0,31300 

6020-ZZ

100 

150 

24,0 

60500 

54000 

4300 

 

99,9 

99,9 

1,25000 

6020-2RS

100 

150 

24,0 

60500 

54000 

2600 

 

99,9 

99,9 

1,25000 

6821-ZZ

105 

130 

13,0 

19800 

22000 

4600 

 

99,9 

99,9 

0,33000 

16021

105 

160 

18,0 

53000 

51000 

4000 

4800 

99,9 

99,9 

1,20000 

6021-ZZ

105 

160 

26,0 

72800 

65800 

4000 

 

99,9 

99,9 

1,60000 

6221

105 

190 

36,0 

133000 

104000 

3200 

3800 

99,9 

99,9 

3,70000 

6221-2RS

105 

190 

36,0 

133000 

104000 

 

 

99,9 

99,9 

3,70000 

6221-ZZ

105 

190 

36,0 

133000 

104000 

3200 

 

99,9 

99,9 

3,70000 

6921-ZZ

105 

145 

20,0 

42500 

42000 

4300 

 

99,9 

99,9 

0,81600 

6921-2RS

105 

145 

20,0 

42500 

42000 

2500 

 

99,9 

99,9 

0,81600 

6921

105 

145 

20,0 

42500 

42000 

4300 

5100 

99,9 

99,9 

0,81600 

6321

105 

225 

49,0 

184000 

153000 

2800 

3400 

99,9 

99,9 

8,00000 

6321-ZZ

105 

225 

49,0 

184000 

153000 

2800 

 

99,9 

99,9 

8,00000 

6821

105 

130 

13,0 

19800 

22000 

4600 

5400 

99,9 

99,9 

0,33000 

6821-2RS

105 

130 

13,0 

19800 

22000 

 

 

99,9 

99,9 

0,33000 

6021

105 

160 

26,0 

72800 

65800 

4000 

4800 

99,9 

99,9 

1,60000 

6021-2RS

105 

160 

26,0 

72800 

65800 

 

 

99,9 

99,9 

1,60000 

6822-2RS

110 

140 

16,0 

28100 

29000 

 

 

99,9 

99,9 

0,51500 

6922-ZZ

110 

150 

20,0 

43500 

44500 

4100 

 

99,9 

99,9 

0,84900 

6822

110 

140 

16,0 

28100 

29000 

4300 

5100 

99,9 

99,9 

0,51500 

6922

110 

150 

20,0 

43500 

44500 

4100 

4800 

99,9 

99,9 

0,84900 

6322

110 

240 

50,0 

203000 

178000 

2600 

3200 

99,9 

99,9 

9,58000 

6922-2RS

110 

150 

20,0 

43500 

44500 

2400 

 

99,9 

99,9 

0,84900 

16022

110 

170 

19,0 

57200 

56000 

3800 

4500 

99,9 

99,9 

1,46000 

6322-ZZ

110 

240 

50,0 

203000 

178000 

2600 

 

99,9 

99,9 

9,58000 

6322-2RS

110 

240 

50,0 

203000 

178000 

 

 

99,9 

99,9 

9,58000 

6222-ZZ

110 

200 

38,0 

143000 

118000 

3000 

 

99,9 

99,9 

4,35000 

6222-2RS

110 

200 

38,0 

143000 

118000 

 

 

99,9 

99,9 

4,35000 

6022-2RS

110 

170 

28,0 

82000 

73000 

 

 

99,9 

99,9 

1,95000 

6022-ZZ

110 

170 

28,0 

82000 

73000 

3800 

 

99,9 

99,9 

1,95000 

6022

110 

170 

28,0 

82000 

73000 

3800 

4500 

99,9 

99,9 

1,95000 

6822-ZZ

110 

140 

16,0 

28100 

29000 

4300 

 

99,9 

99,9 

0,51500 

6222

110 

200 

38,0 

143000 

118000 

3000 

3600 

99,9 

99,9 

4,35000 

6924

120 

165 

22,0 

53000 

54000 

3800 

4400 

99,9 

99,9 

1,15000 

6924-2RS

120 

165 

22,0 

53000 

54000 

 

 

99,9 

99,9 

1,15000 

6224-ZZ

120 

215 

40,0 

155000 

131000 

2800 

 

99,9 

99,9 

5,15000 

6224

120 

215 

40,0 

155000 

131000 

2800 

3400 

99,9 

99,9 

5,15000 

16024

120 

180 

19,0 

63200 

63300 

3400 

4000 

99,9 

99,9 

1,70000 

6924-ZZ

120 

165 

22,0 

53000 

54000 

3800 

 

99,9 

99,9 

1,15000 

6024

120 

180 

28,0 

85000 

79000 

3400 

4000 

99,9 

99,9 

2,09000 

6824

120 

150 

16,0 

28900 

33000 

4000 

4700 

99,9 

99,9 

0,55500 

6824-2RS

120 

150 

16,0 

28900 

33000 

 

 

99,9 

99,9 

0,55500 

6824-ZZ

120 

150 

16,0 

28900 

33000 

4000 

 

99,9 

99,9 

0,55500 

6224-2RS

120 

215 

40,0 

155000 

131000 

 

 

99,9 

99,9 

5,15000 

6324

120 

260 

55,0 

212000 

190000 

2400 

3000 

99,9 

99,9 

13,60000 

6024-ZZ

120 

180 

28,0 

85000 

79000 

3400 

 

99,9 

99,9 

2,09000 

6024-2RS

120 

180 

28,0 

85000 

79000 

 

 

99,9 

99,9 

2,09000 

6026-ZZ

130 

200 

33,0 

106000 

101000 

3200 

 

99,9 

99,9 

3,25000 

6326

130 

280 

58,0 

229000 

214000 

2200 

2800 

99,9 

99,9 

17,00000 

6026-2RS

130 

200 

33,0 

106000 

101000 

 

 

99,9 

99,9 

3,25000 

6826-ZZ

130 

165 

18,0 

37000 

41000 

3700 

 

99,9 

99,9 

0,80000 

6826-2RS

130 

165 

18,0 

37000 

41000 

 

 

99,9 

99,9